The Day and the Day After
As orated by Chris (and edited by Lisa):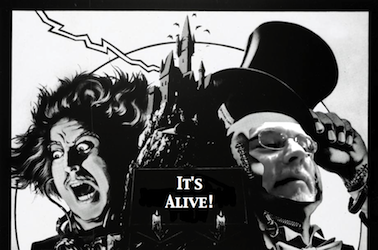 Woke up from surgery (Thursday) surrounded by loving family and friend Michael. Everyone said the surgery went really well. Michael sang to me the Shema and Mechebera. I spent some time in the Recovery Room while the staff gave me drugs to manage the pain, reduce brain swelling, and to prevent blog clots (RDR).
It took awhile before I was sent to ICU, where I was cared for by wonderful Ross, Helen and Matt, though I had to go get another MRI at like 3am (!) just to make sure my brains were still fitting in this little cradle of mine. I must say, that ride down to the MRI was a bit like a ship sailing on a stormy sea, and even I got a bit nauseous. But shortly after, someone read the MRI and said I'm tumor free, free, free, which was sweet music to my ears.
I'm enjoying that oh so extra-special goodness of leg massagers. Oh how I love those leg massagers, and I hope we can find where to rent them for my recovery at home.
First visitors of the day were Nicole and my wonderful friend Hement, who saved my life. (The story told is that Chris was out golfing with his buddies and went to change his clubs. To Chris, it was as if he stood there putting a club in and pulling a club out, over and over again. To his golf buddies, Chris stood by his bag as if frozen in time. For three minutes. And at Hement's incessant urging, Chris went to the doc where they discovered the Alien in his Brain.)
BFD Edy came to visit in ICU. He told Nicole and I it was a close call, very close, and said I'd have the brain drain and turban for just a day then that would all come out and off and I'd be left with a lovely row of stainless steel staples across my shaven head. He showed us pictures of the robotic OR, and of the alien itself. After Edy left, Nicole stayed with me and then later CJ and sister arrived. Just in time to hear the Physical Therapist tell me that, even though it's warranted, not to go dancing a Horah any time soon.
After the PT left, I talked with family, ate a good meal and started playing with my iPhone (geek that I am).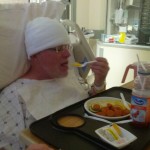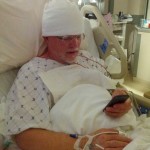 Nicole and CJ sang me the Shema to help me sleep. And through it all I was accompanied by a warm, comforting, white blanket of snow, given to me by my friend Mel. The perfect mental image to meditate and get to a higher plane, above the pain.