Lisa here. I've not talked with Chris since Thursday. But during that Google Hangout with him, Nicole, and Carla, he was showing off his newly minted head-tilting skills. Nicole remarked that it seems he's actually turned a corner on many fronts (without walking into walls), and shows remarkable improvement from the day before. Chris says he must be getting used to that swimming pool in his head.
Then, at yet another tilt of his head (show off), I exclaimed at how long his hair has gotten. A whole .314159 inches!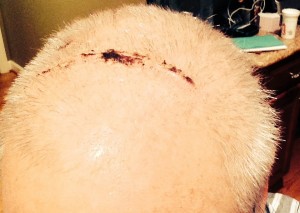 Then he gleefully reminded me that we have six months to go before either of us can cut our hair. That's the deal we made. Who's with us?
I suspect that he'll be reconsidering that deal when he's ready to tape a few more episodes for PosiTek, sans bowler hat and sun glasses…
Chris mentioned that in addition to his improved head-moving abilities, he's also getting about the ground floor just fine with just his cane. He's not quite up to tripping-the-light fantastic, but they can finally see the day lurching closer when he'll be able to…
Anyway. That's the news for today. Erm, last Thursday.